I remember it quite well.
---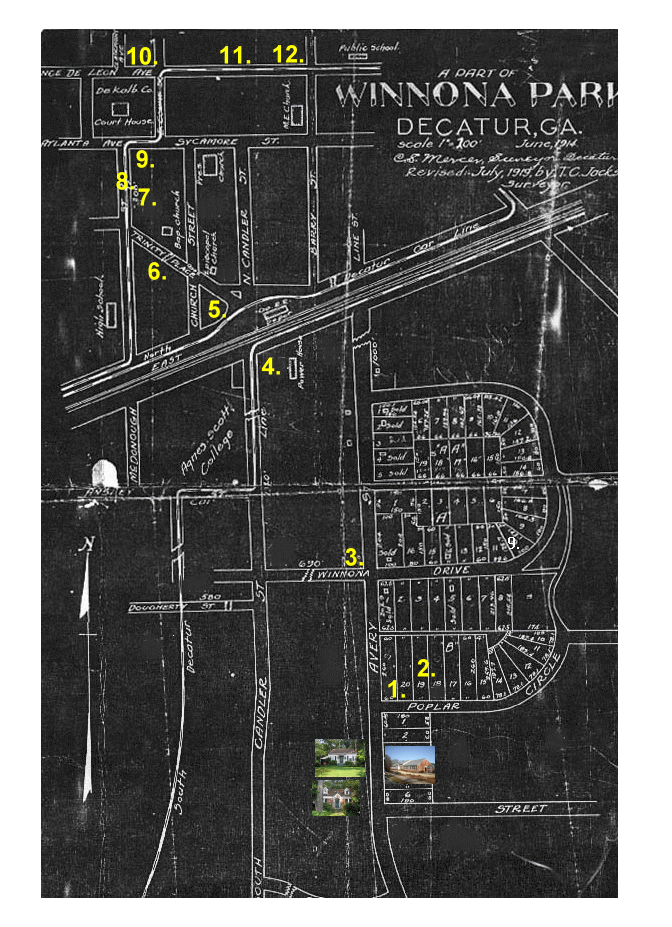 1. The Moehring house at 440. The upper "skylight" structure was not there when we were.
2. View looking roughly southeast (as best that I can figure out) of the tennis court at the Decatur Athletic Club. Looks like that there is plenty of ivy around...
3. I know nothing about this house except that there was a vacant lot behind it and the sidewalk on the Avery Street side was of "hex" type pavers.
4. Sinclair gas station, home of the famous Marilyn Monroe calendar. I bet those guys got tired of me wandering in there all the time to check it out.
5. Dekalb Locker Plant. My mother used to buy meat in there. Before it was a locker plant, it was a lumber yard. My sense is that the timber in my bedroom at 519 came from that same lumber yard.
6. Decatur Post Office. I had a job there over one Christmas when I was out at Emory. It is currently a candy/gift shop.
7. Decatur Theater. "Harvey" is one of the best movies ever made.
8. Street car/trolley. It looks like it is going down the hill towards the high school. We used to catch it to go to downtown Atlanta over behind the Agnes Scott observatory.
9. Decatur Bank and Trust Company at the corner of Sycamore and North McDonough. I don't recall as ever going in there.
10. Pythagoris Lodge at the corner of Ponce de Leon and Claremont. Just down the street on Claremont was a Colonial grocery store.
11. Dekalb Theater. I liked it better than the Decatur Theater because it had a balcony.
12. Candler Hotel. Just to the left of it on Ponce de Leon was a Western Auto store.
Click here.