1. A portrait showing Nicholas and Alexandra in their bedroom at the Ipatiev house. The sleeping Alexei's right knee is bandaged by virtue of a fall at the Governor's house (their previous "prison") in Tobolsk.
2. As best I can figure out, this photo was taken in the in the Grand Duchesses' bedroom and looks into Nicholas's bedroom.
3. South side of the house looking northwest.
4. View looking northwest from the garden. The bathouse is on the left. I have seen one report that says that there was a root cellar close to the bath house.
5. Rear of house. The letter "P" indicates the Popov house which was right across the street (see below).
6. It was through this arched and grated window that Victor Deriabin watched the regicide.
7. Another portrait, this time of a soldier is sitting in Nicholas's bedroom shortly after the regicide. The open door leads into the Grand Duchesses' bedroom. Nicholas's tunic and Alexei's cap that he liked to wear while on the
Standart
(the Imperial yacht) are seen scattered about on the floor.
8. View looking more or less east. The Ipatiev house is indicated by the vertical arrow and Vosnesensky Place is indicated by the horizontal arrow. I am surprised as to how wide Vosnesensky Place was at the time.
9. View looking down Voznesensky Place more or less west. Iset Pond is seen in the distance. The notorious arched window is indicated by the yellow arrow.
Below, Alexander Popov, whose house was directly across the street from the Ipatiev house. He was an early radio pioneer and is shown here pointing out his invention to a Russian military officer. The Bolsheviks commandeered his house and used it as a barracks for the interior and exterior guards. Beyond that, he played absolutely no role in the regicide.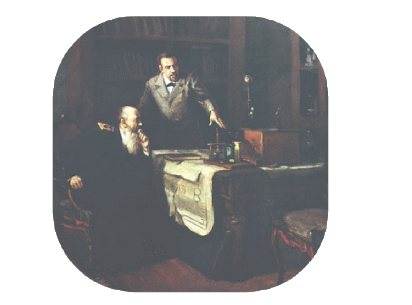 For his efforts in re the development of the radio, Popov was honored several times with his portrait on postage stamps of the time, as per below.